PMA BIG CHRISTMAS QUIZ 2020
The PMA fundraised for CPSL Mind at our Big Christmas Quiz on 9th December which was supported by our members, colleagues and sponsors and managed to raise £2,100.  On behalf of the PMA Committee, we would like to thank everyone who supported this event and helped make a difference.
PMA FUNDRAISE FOR CPSL MIND IN 2020
1 in 4 of us will experience poor mental health each year. We are Cambridgeshire, Peterborough and South Lincolnshire Mind and our vision is to have a society in which everyone has positive mental health and feels part of a connected community. A new service we have set up is a new helpline for Students of Anglia Ruskin University and Cambridge University who are overwhelmed by a new way of learning and being away from home in a pandemic. In Peterborough, we have been working with the National Citizen's Service with students, raising awareness of wellbeing and the importance of staying active. I will be delivering a talk to the Local NHS Blood Service Team in Dogsthorpe, Peterborough as they have been on the front line of the NHS taking blood donations throughout lockdown. The 'Good Life Fund' attached above, will be launched in January. We already have a local perinatal group that wish to apply for the fund, which will help to bring people in the community together and promote support from within.
Our Main Services
The Good Life Service
This service takes a fresh approach to community based wellbeing and has been developed alongside individuals with lived experience of mental health problems. We take an asset based approach focusing on people's strengths and skills. Working alongside our communities, we encourage peer support and community connectivity, providing a variety of mental health support and wellbeing activities. Services include Good Mood Cafes, Open Door Calm Spaces and peer support groups. Since September 2019, 704 people have support through this service.
The Sanctuary
The Sanctuary is a non-clinical space offering a calming, restful lounge area where 'visitors' can feel safe. There is one in Peterborough and one in Cambridge. As we provide support on a one-to-one basis, we only have three visitors at any one time in each Sanctuary. Sessions last around two hours and recognise crisis is different for everyone. Some may be feeling suicidal, others maybe struggling with extreme anxiety and simply need a place to go where they can sit with someone and feel safe. In 2019/20, The Sanctuaries provided 2,318 1-2-1 sessions. So far for 2020/21 we have provided 1,676 support sessions. The number of people accessing this service has gone up by over 30% during The Covid-19 Pandemic.
Here are some figures taken from our impact report to show the reach of services we are providing to local individuals: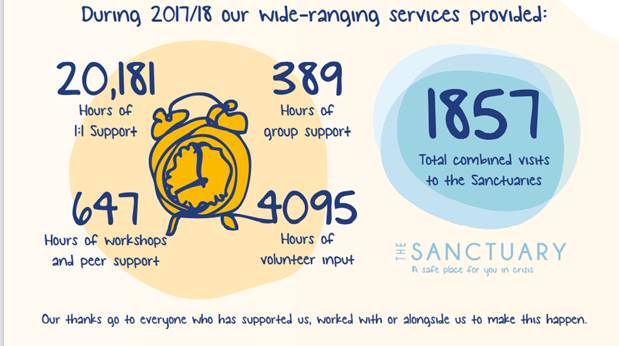 Peer Support Groups
Our Peer Support Groups provide the opportunity to share experiences as well as to give and receive support to others who have experienced mental health challenges.
Qwell
Adults in Cambridgeshire and Peterborough can now sign up to Qwell – a free online support and wellbeing community – as part of our Good Life Service. You can join Qwell immediately and anonymously through any connected device where you will have access to counselling. On average 627 separate individuals who have been helped by this service over the last 3 months.
Changing Lives
Changing Lives Service provides talking therapy free of charge to anyone over the age of 17, living in Cambridgeshire. We can offer up to 12 sessions of counselling and up to 6 sessions of Cognitive Behavioural Therapy.
The Perinatal Service
The Perinatal Service supports pregnant women and new mums who are experiencing mental health challenges. Being a new mum can be a difficult and daunting experience for some women and our aim is to support and empower these mums whilst dispelling the myths of motherhood, encouraging and empowering mums to nurture themselves, teaching a collection of tools and techniques to improve overall wellbeing and promote self-development.
Campaigns
STOP Suicide
STOP Suicide is an award-winning suicide prevention campaign that seeks to empower communities and individuals across Cambridgeshire and Peterborough to help stop suicides by being alert to the warning signs, asking directly about suicide and helping those who are feeling suicidal to stay safe. This is a Cambridgeshire, Peterborough and South Lincolnshire Mind (CPSL Mind) campaign, funded by Cambridgeshire County Council and Peterborough City Council.
StressLess
This campaign is for people aged 12-18 years and focuses on the message 'Take five; feel better', equipping students with simple strategies they can use over five weeks to feel less stressed, and encourages them to create your own Stress LESS Action Plan by identifying small changes that can make a big difference such as eating well and connecting with others.
Volunteering and Fundraising
We offer a variety of volunteering opportunities for people who are passionate about mental health – and we actively encourage people who use or have used our services to get involved. Volunteers are extremely important in contributing to all areas of our work from Peer Support to Counselling, from Campaigns to Administration and from Fundraising to Communications.
Why do we need your help at this time?
The Covid-19 pandemic is affecting people's mental wellbeing in many different ways and, in response to increased levels of anxiety, isolation and loneliness, we at CPSL Mind have adapted our existing services – and developed new ones.
By raising funds for Cambridgeshire, Peterborough and South Lincolnshire Mind you will be helping us to support local people to recover from mental health problems. You will also be supporting our mission to tackle stigma and to raise awareness of the need for all of us to look after our mental health.
£10 provides a selection of 'self-help' leaflets to a local community group
£30 enables a member of staff to provide telephone or email support/information to someone who is in distress and doesn't know where to turn
£100 funds funds a one-hour mental health awareness session for a local school or community group
£150 will provide specialist training for one volunteer- who will then go on to support up to 10 people in the community
£465 funds a half day STOP Suicide awareness workshop for a community group
£2300 pays for 24 people to learn Suicide Intervention Skills that saves lives
£4760 funds The Sanctuary for one week
£5946 will fund an 8 week Mum's Matter perinatal course to support woman experiencing perinatal mental health challenges
I hope this gives you an insight into our incredible Local Mind (CPSL). We are totally independent from National Mind and receive our funding independently. National Mind is our incredible umbrella organisation who helps to increase mental health awareness nationally.
Here is a link to our website it contains more information and our virtual fundraising pack. Our social media channels are @cpslmind .
This is just the tip of the iceberg with regards to our services as we also work with the NHS and CPFT to keep people safe.
Downloads
CPSL Mind – Supporting Local People PDF
Catherine Keating
Charities we have supported over the years
We are happy to support member charities if you have a charity whom you are
offering support please email louise@srevents.co.uk